Background
The inaugural full ironman in Norway took place on 1st July during unusually hot dry sunny conditions. There were less than 600 athletes doing the full 140.6 mile race which occurred simultaneously with the 70.3 race. At the start of the year, this Norway race had been my main target to win an Ironman Kona slot, with Ironman Boulder in Colorado three weeks earlier as the tune-up race. I was fortunate enough to get a Kona slot at Boulder so this visit to Norway became the tune-up race for the ITU World Championship in Denmark two weeks afterwards.
Swim
The lake swim at Haugesund was a relatively cool 18 degrees and produced a surprisingly frequent number of contacts with other swimmers despite the rolling start and small starter list. The swim was well organised with a novel system of swim lanes within the lake so it was impossible to go off course by very much. My 1:28 swim was typical of recent times and one of the slowest in age group.
Cycle
This is possibly my best ever cycling experience and a top personal performance. The conditions were perfect with closed dry roads on a breathtakingly beautiful but challenging hilly technical single loop 112 mile course with constant turns and switch-backs. If I had previously cycled the course, I could have cycled 10 minutes quicker because of less braking and choosing better lines to take corners at speed. Several sections were like a roller-coaster ride with 40mph descents approaching bends in the road then steep climbs that momentum could carry you up if you held your nerve.
My 5:33 cycle was 22 minutes faster than the next best in my age group, but I had no notion of this when I started the run.
Run
I had no idea that I was in the lead for most of the run and I frittered away a 13 minute advantage by failing to dig deep in the second half. My 4:07 run was 15 minutes slower than my typical Ironman run and I finished 2nd in age group having been beaten by 4 minutes 31 seconds.
Reflections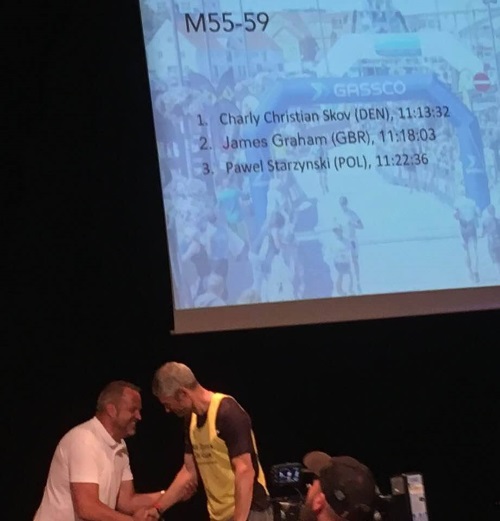 It was a very pleasant surprise to appear on an Ironman podium for the second time within 3 weeks. My overall finish time of 11:18:03 is not particularly fast but the challenging bike course and the hot conditions for the run caused everyone to slow down.
Having been middle of the pack for most of the other 20 Ironman races since my first one in 2009, this 2nd place in age group at Ironman Norway is more than I could have hoped for.
That altitude training in Colorado a few weeks earlier seems to have worked but sadly it will just be a temporary effect. Lack of mental strength may have cost me 1st place in age group in this race as a little voice in my head may have been telling me to save something for the ITU Long Distance World Championship in Denmark two weeks after.