Ironman Boulder, Colorado 9th June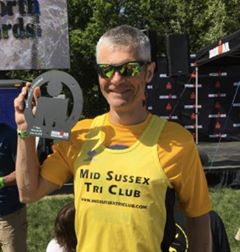 Jim Graham continued his worldwide Ironman and Marathon experiences in this high altitude event held at 5000ft. He had made meticulous preparations for this event, with every detail addressed, with the aim of securing a Kona qualification for 2018. Kona is the Ironman Championships in Hawaii. At the Boulder event, after a slow swim, Jim did well on on the moderately hilly bike route, averaging 22.5mph, with his home-made bike, put together mostly with second hand parts, proving to be very aero, and held his form in the run, despite 100F temperatures, to come in overall 1st in his age group in 10.39. This performance gives him a slot medal for the Ironman World Championships in Kona, Hawaii, later in the year. Jim said that this achievement was "a dream come true", "unbelieveable" since previously he had never ranked better than 5th in his age group, having completed 22 Ironman distance events over the last 9 years. Jim expressed his gratitude for all the terrific support from friends, family and colleagues, and said that " Kona promises to be awesome."
You can read Jim's full race report here.
23rd & 24th June
It was a busy weekend for members who were competing in Triathlons of varying lengths and also for 16 members who took part the River Arun Swim.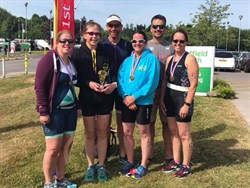 Swim 1st Triathlon, Crawley
Rachael Baker won the women's race, with Rob Hoodless coming 3rd in the men's race. Sarah Hinton, Clair Hunt, Rebecca Moore also took part.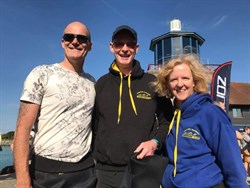 River Arun Swim
This is a 3.8km swim from Ford to Littlehampton. Steve McMenamin was the 1st member to finish in 48.46 (4.68 km/hr), with Mike Jaffe 2nd in 50.45 and Jo Fleming 3rd in 53.34. Joanne Barton was the first woman member to finish in 55.28 (4.11km/hr), with Tiggy Rose 2nd in 55.54, and Merrin Forbes the 3rd member to finish in 58.15.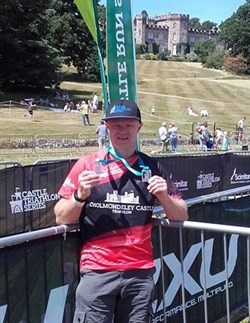 Chomondley Castle Triathlon
Andrew Biggs went to Cheshire for this Castle Triathlon Series event. He did the sprint plus event on Saturday, finishing the 800m swim, 44km bike and 8km run in 2.20.10, and then did the Standard Distance event on Sunday, completing the 1500m swim, 44km bike and 10km run in a very respectable 2.47.
Leeds Castle Triathlon
Lawrence Wintergold came 3rd in his age group in the Standard Distance Event in 2.23.22. Jane Faulkner also took part, finishing in 3.33.19. Adam Bryant competed in the sprint event, finishing in 1.48.08.