Midnight Wo/Man AquaBike Event, Dartford, 14th August
This is a friendly event, set amongst scenic lakes, formerly gravel pits, within sight of the QE2 Bridge at Dartford. It involves racing through the night to the finish line. Lawrence Wintergold finished 2nd overall and first in his 55-60 age group in the Aquabike event involving a 1.9km swm and 90km  bike ride. Lawrence commented that the bike ride was very different in the dark, with many competitors having a variety of twinkling lights. It was also challenging trying to gauge the speed of slower riders when overtaking in the gloom.
Sunday 4th September
Poznan Ironman 70.3, Poland
Paul Newsome travelled to Poland for the Ironman 70.3 in Poznan, by the side of Lake Kierskie, the site of Poland's first Ironman in 1984. The 70.3 involves a 1.9km swim, 90km bike ride and 21.1km run.
Paul was delighted to finish 6th in his 35-39 age group in 4hrs 18mins.
Shropshire Middle Distance Triathlon, Sunday 4th Sept
Stewart Conway was in Shropshire for the Middle Distance Triathlon (2000m swim, 78km cycle, 20km run) and was very pleased with his age group win in 4.18.26, as it was a good warm up for the Weymouth 70.3 event on the 18th September.
Sunday 11th September
David Turner was in Snowdonia for the Big Brutal 5km wetsuit swim in the glacially formed Llyn Padarn, the 6th deepest lake in Wales. Despite the name this is known as a friendly and relaxed swim for new and experienced swimmers. David celebrated with a beer after completing his two circuits in 2.39.22.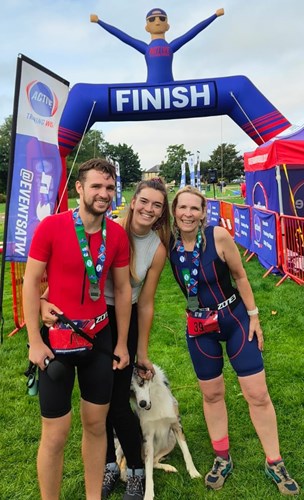 Susie Cowie competed in the St Neots Sprint Triathlon (750m swim, 24m bike and 5km run), her 1st with an open water swim, in the River Ouse. She said she enjoyed almost all of it, which she completed with her son, finishing in 2.07.05.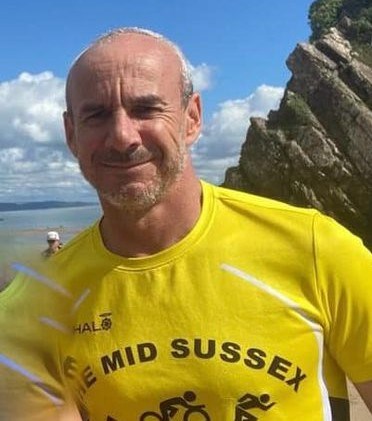 Meanwhile, along with about 2,000 other competitors, Doug MacTaggart went to Tenby for the very tough Ironman Wales. This comprises a gruelling 2.4 mile sea swim, a hilly 112 mile bike ride and an exhausting and also hilly 26.2 mile run. He started at 7.09am and finished at about 9.36pm, giving a total time of 14.27.31, which was well within the 17 hour time limit.