Mid Sussex Junior Triathlon Event Sunday 15th May
Many members and club coaches were at Great Walstead School's playing field and pool for the club's Junior Triathlon event on Sunday 15th May. About 25 juniors from 8 - 15 years participated in triathlons of varying lengths depending on their age. They were divided into 3 groups, each with a club coach, and had all received some training on previous weekends. The young ones did a 30metre swim, followed by a 700m bike ride and finished with a 700m run. The older ones did up to a 240m swim, a 2-3km bike ride and a 1.4km run. They received a full briefing and bike safety check before commencing. They were encouraged by many parents and grandparents, all cheering and ringing cow bells, which made it all very enjoyable, and much easier for the participants,  leading to some excellent performances.
Swashbuckler Middle Distance Triathlon
Four keen members participated in the Swashbuckler Middle Distance Triathlon event at Bucklers Hard in Hampshire on Saturday 15th May.  This involves a 1.9km swim in the chilly (16 degrees) Beaulieu River, a 90km bike ride in the New Forest and a 22km run. All recorded personal bests in glorious sunshine, with Steve Alden coming first in his M55 category on 5.04.01. Brad Williams was 6th in the same category on 5.53.50 with his wife Julie Williams placing 3rd in the F50 category on 6.22.15 and Jean Fish placing 3rd  in the F55 category on 6.38.28.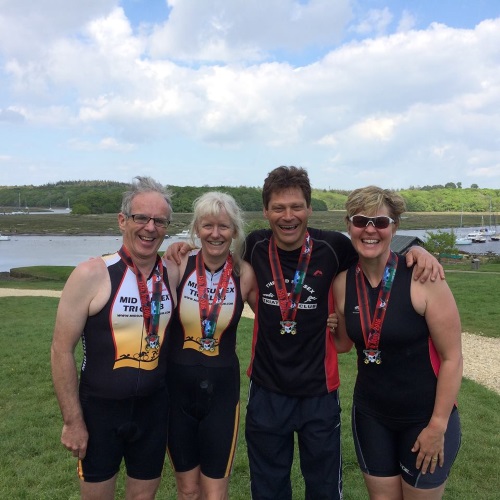 4 Sight Charity 40 mile Bike Ride
Steve McMenamin, Jo Fleming, Lawrence Wintergold and Paul Virgo helped out at the 4 Sight Charity 40 mile Bike Ride which started at The Thatched Inn, Hassocks on Sunday 15th May. This comprised of 14 tandems and 2 triplets where the back riders (stokers) are blind or severely visually impaired. The Mayor of Haywards Heath and the Charity's Chief Executive were on the triplets.