We picked Miami 70.3 as a destination event to mark Mike's 50th. The aim was to roll together a weekend city break, hot weather, beaches, and cocktails with our first half ironman. A good question could be why bother with the last bit. But as the club T-shirt says, if you have to ask you will never understand.
Anyway, with the benefit of having done the event we have tried to come up with our top 10 reasons why:
Ultimate bike racks. Where else can you lock your bike to a palm tree while you go for a practice swim off the beach?
The weather. Hot and sunny, perfect for lazing around on the beach sipping Margaritas. But for doing a triathlon? You've got to be kidding. Fine if you're from the Sunshine State but If you're used to the rather cooler Sussex climate? Boy was it tough out on that run! They did have ice at the water stations though. Nice touch.
The atmosphere. Wow. 3000 competitors and a build up like some major sporting event, national anthem, flags, completely over emotional commentator getting everyone thinking they are about to do something glorious. Complete load of tosh and we loved it.
The swim course. With dolphins. Yeay, everyone likes dolphins! And jellyfish (and Emma can show you proof that they were of the stinging variety).
The warm water. Nice, very different to Ardingly in October. But wetsuits banned! Meaning slow swim time for Mike with Emma coming in a few minutes ahead. Better not ask Mike about that, he's still coming to terms with it. He's trying to claim that the current was stronger for his wave.
The super flat and fast bike course, closed roads marked by traffic cones for the entire route and hundreds of state police manning every road junction. Pity about the headwind though. And the really long, boring straight bit in the middle (from about mile 5 to mile 51).
The run course. Spectacular scenery with palm trees, skyscrapers, blue sky and sparkling sea. Completely flat too. That's according to the race guide. Whoever wrote that forgot to mention the MASSIVE road bridge over the harbour (with one very real hill) that we had to run over FOUR times.
The friendly atmosphere. Great to chat to other competitors from all over the world (particularly Latin America), even shouts of "go mid sussex" out on the run course from some chap from Brighton.
The medals. The best (and biggest) ever.
The party afterwards. Under the palm trees on the edge of the harbour, free beer, music and new friends. And more dolphins. And margaritas.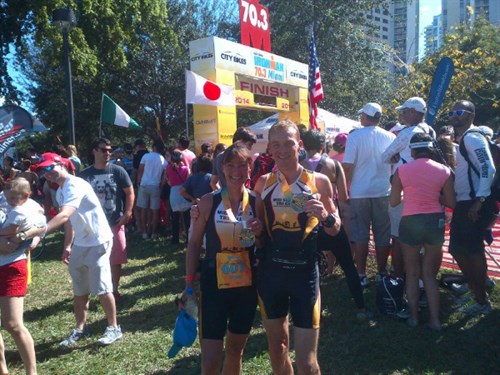 So who's up for it next year??
PS. for those that want to know how we did, we both got round more or less in our target times. Emma in 6.30ish and well inside the top half in her age group which was an outstanding result given that 95% of her group had carbon TT bikes (she was on her trusty aluminium road bike) and that all the photos show that she was enjoying the event WAY too much. Mike came in just under 5.30 despite a shocking 53 minute swim and managed a not unreasonable 10th in his age group.