Over the past three weeks Mid Sussex Triathlon Club members have been running marathons in Manchester, Brighton & London, with Dr James Graham running all three.
Manchester Marathon 8th April
James Graham completed this marathon in 2.59.52, coming 21st in his age group. Sarah Moore also ran this marathon coming in with a time of 4.23.25.
Brighton Marathon 15th April
James Graham was running again coming in with a time of 3.12.58, placing 29th in the 50-59 group. Doug MacTaggart and Clair Hunt also ran, coming in with a times of 4.24.36 and 7.04.21
London Marathon 22nd April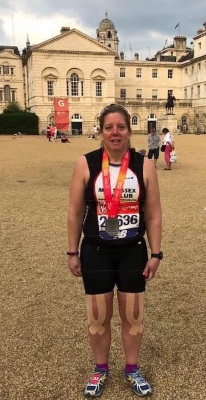 Five members ran the London Marathon this year with Mike Jaffe being the 1st club member to finish in 3.12.40, James Graham, running his 3rd marathon in 3 weeks came in on 3.13.23, with Steve Alden the 3rd member to finish in 3.33.36. Kevin James was close behind, finishing in 3.40.49, whilst Clair Hunt completed her second marathon in a week with a time of 7.30.56.
Uckfield Triathlons 22nd April
Meanwhile other members got their Triathlon season underway closer to home at Uckfield. Phil Couch and Paul Richardson took on the Standard Triathlon (600m swim, 22km bike & 5.25km run) with Phil finishing 4th overall in 1.08.36, and Paul finishing in 47th place in 1.31.31. Lawrence Wintergold came in 5th in the Sprint Triathlon (400m swim, 16.5km bike, 3.5km run) in 51.19 with Jon Clark following on in 1.05.36.
Bluebell 10 mile Angmering
Sam Drake enjoyed the picturesque Bluebell 10 mile event in the grounds of the Angmering Estate, completing the course in 1.59.21.