Swim
Perfect conditions in a beautiful reservoir rolling-start single lap course resulted in one of the slowest swims in age group of 1:29. This was 17 minutes slower than my previous best iron-swim and reflects current poor swimming form.
Bike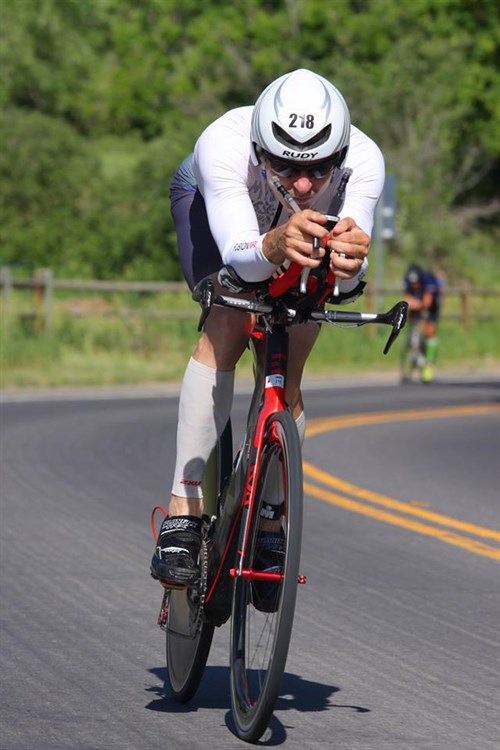 Hundreds of riders to overtake on the moderately hilly good surface non-technical bike course gave hundreds of brief legal drafting opportunities whilst going past people. The home-made bike constructed from mostly secondhand parts from eBay proved to be very aero with average speed of 22.5mph and maximum speed of 45mph for a 4:57 bike split. This was apparently fastest in age group apart from a 4:29 DNF.
Run
Temperatures were around 100F at the start of the run and I was content with the sub-5 hour bike split so a fast run was not in mind. Almost immediately I got overtaken by Stephen from Colorado who was in my age group and was wearing Kona World Championship Finisher's Kit. I was motivated to try harder and attempt to match Stephen's pace. I could not keep up with Stephen's running but he tended to spend longer at feed stations so I kept seeing him up until the last third of the run when he seemed to have got away. Just a few hundred metres from the finish I overtook an exhausted Stephen but because he had entered the water ahead of me our finish times were 2 minutes apart. Stephen's 4:01 run was best in age group and my 4:02 was second fastest.
Post-Race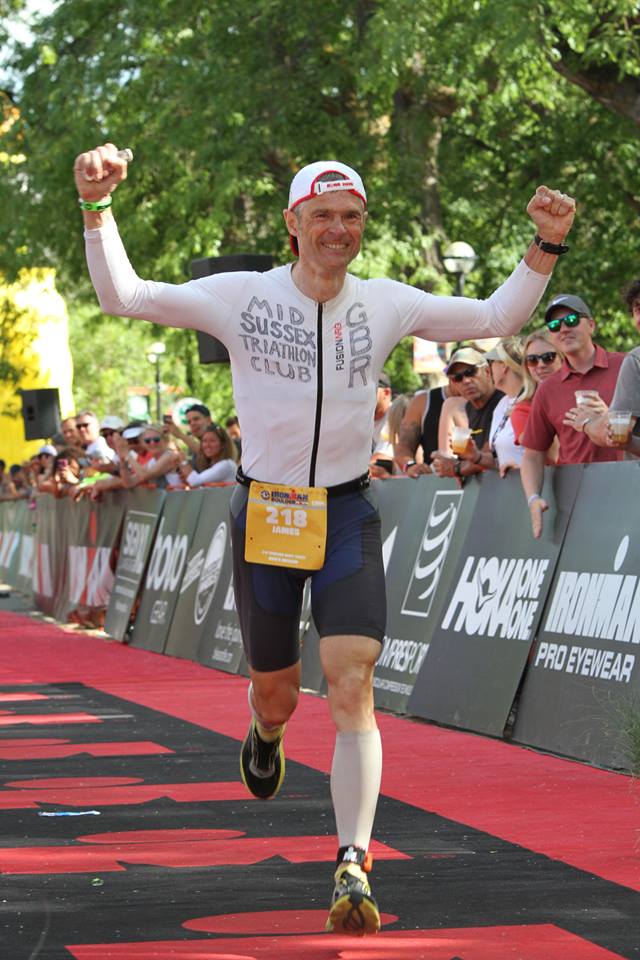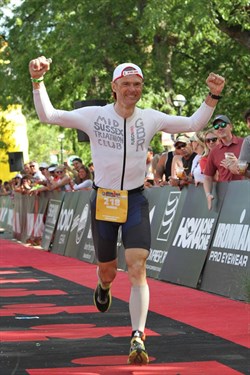 The exceptionally hot conditions and the 5,000 feet altitude accounted for a high DNF rate but Stephen and I secured the two Kona slots for 55-59. Unbelievable to get the age group award and the Kona slot medal. My 10:39 was almost and hour slower than PB but in the conditions it was pretty good and considerably faster than last year's IM Boulder 55-59 winning time. This result was totally unexpected as explained in the Grand Plan described later.
Background
This is the race report I never dreamt of being able to write, having completed 22 Iron Distance Races over 9 years and never ranked better than 5th in age group. It was a humbling experience having my perfect race at Barcelona 2015 only to find that the 9:45 finish time was slower than 6 people in my age group.
The Grand Plan
A final 100% effort to get a Kona qualification slot was planned for 2018 to coincide with going up an age group. Having been to Kona with a legacy place in 2016, I hoped to go back in 2018 with a roll-down slot to prove I could make the grade the proper way.
Every detail was addressed including body weight reduction, a more aero bike, 25mm graphene tyres, latex inner tubes and speedplay aero pedals/cleats. The schedule of training and preparation races included altitude training at the optimum time to deliver a best performance at IM Norway on 1st July at sea level. The Colorado altitude training in June included 3 races within 13 days (Revel Rockies Marathon, IM Boulder and Leadville Marathon).
I stayed at 8,000 feet for a week then raced at 5,000 feet in Boulder before going to 10,000 feet for a week to prepare for the 3rd race at Leadville with maximum elevation of 13,000 feet.
Reflections
I am very grateful for all the terrific support from friends, family and work colleagues to allow me to have do this trip plus the training needed to prepare. Commuting by bike to work 3 days a week and running marathons twice or more weekly in order to get 100-marathon club entry have been key factors in getting fitter.
Colorado is a wonderland for triathletes with great options for swimming, cycling and running at high altitude to maximise fitness adaptations. The landscape is gorgeous and the locals are very friendly. Flying direct from Gatwick to Denver with excellent budget airline Norwegian Air is very practical. Staying at AirBnB rentals was very good value and my hosts were wonderful.
The strategy of regular races paid off. 3rd in age group at Revel Rockies Marathon with 3:04 then 1st in age group at IM Boulder 7 days later. 6 days after IM Boulder I felt fully fit and secured 7th place in age group at the Leadville Marathon with maximum elevation of 13,000 feet, which won me a Leadville 100 qualifier slot.
Kona 2018 promises to be awesome and I am so lucky to be able to compete there. It looks like the big challenge for 2019 will be trying to complete one of the toughest 100 mile ultra runs in the world at Leadville.