A small detachment from MSTC including Jules Stuart-Colwill, Matt Critchley, Morwenna (ably supporting) and Myself made the journey up to Staffordshire for the inaugural Ironman 70.3 at Shugborough country estate. It was our first attempt at a middle distance event for all of us so butterflies all round (although Jules had cheated by doing a full Ironman previously!)
Pre-race
We headed up on Friday afternoon, managing to scrape into registration thanks to some demon driving from Matt and much pleading to the security guard in the event village who initially insisted that they were already shut. It was a good job we did register on Friday as setup on Saturday was far from straight forward. The split transitions were over 12 miles apart with no direct access to T1 introducing an extra 20 minute hike over hill and dale with our bikes in tow. Maybe it wouldn't have seemed so bad if it hadn't been raining and we began to consider spending the next morning getting a soaking on the bike!
Race day started exceptionally early at 3:30am so we could drive to Shugborough then get a shuttle bus back to the swim venue at Chasewater. I'm sure everyone else was cursing my relative youth, meaning I got drawn in the first wave after the pros. But on the plus side we got to see Triathlon royalty Javier Gomez warming up right in front of us. Pretty cool to be in the same event as the world number 1, even if our times were slightly different on the day!
Race day
I found the swim great, massive red buoys made sighting easy and I managed to avoid the scrum at the start. Although it was surprisingly choppy for a lake which made me glad I'd had plenty of time to digest breakfast! Its fair to say I made the most of T1 and spent more time in there than was strictly necessary but eventually I did exit and got going on the bike course.
Early on there were some quite technical sections with narrow lanes and blind corners. I was glad to be on my trusty road bike after narrowly avoiding a pile up of TT bikes on a small sharp hill following a blind bend! I established a fairly consistent pacing, quicker than my training pace but it seemed to be sustainable. While the course definitely couldn't be described as flat with over 700 metres of climbing I did find it fairly fast... until the last 20k at least! The climb into Cannock Chase came at the worst time for me with energy running low my pace plummeted along with my spirits. However the really steep section I was dreading never arrived, instead it flattened off then left a mostly downhill cruise back to T2. All you stats fans can check out my bike leg on Strava.
So, just a little half marathon between me and a big shiny 70.3 medal. The run course was 3 laps of a varied course, around the Shugborough country mansion, out to some cheering crowds on the streets then back into the estate through a wooded section. The variety on the course made it go by pretty quickly, that and the regular flat coke refuelling stops! Apart from one 1/2k hill it was a pretty flat course making it easy to conserve energy. Unfortunately no sock change in T2 had left me with wet socks and rapidly growing blisters and plenty of opportunity to remind myself the pain is just weakness leaving my body!
Surprisingly I only saw our resident cheerleader Morwenna on my last lap and was disappointed to hear later that Ironman had abandoned several hundred supporters, including Morwenna, at the swim venue for several hours! I gather that more shuttle buses only turned up after some guerilla campaigning on social media and those buses then promptly got stuck in traffic for an hour trying to get back to T1. The organisers really must do better with logistics at this venue next year as it put a damper on the event for us and many other competitors we talked to.
Unfortunately my pacing dropped off on the final lap of the run and I finished just outside of 6 1/2 hours, leaving me to rue my tardiness in transition, plenty to work on for the future! After locating Morwenna we cheered Matt and Jules in at the end, they both turned in great performances smashing their pre race time predictions, I doth my swim cap to you both.
Results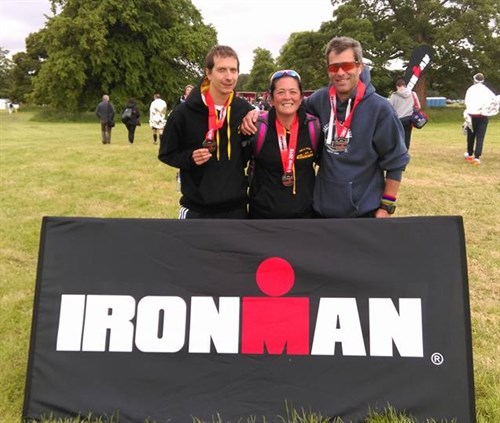 | Name | Country | Div Rank | Gender Rank | Overall Rank | Swim | Bike | Run | Finish | Points |
| --- | --- | --- | --- | --- | --- | --- | --- | --- | --- |
| Critchley, Matthew | GBR | 180 | 1001 | 1116 | 00:46:14 | 03:06:26 | 02:16:11 | 06:22:16 | 1589 |
| Hook, Mike | GBR | 170 | 1114 | 1261 | 00:40:10 | 03:22:53 | 02:12:57 | 06:31:29 | 1273 |
| Stuart-Colwill, Julienne | GBR | 42 | 213 | 1522 | 00:45:25 | 03:38:37 | 02:19:21 | 06:53:44 | 1317 |
| Gomez, Javier | ESP | 1 | 1 | 1 | 00:23:34 | 02:20:57 | 01:13:32 | 04:02:13 | 3500 |