I did this ride last year but opted for the Challenge route 54 miles, so this year I was going for the Classic route of 71 miles!!
At registration I met up with Jeff Woodall, Andy Miles and Graeme Fitzjohn. Jeff and I were doing the long ride and Andy and Graeme were doing the 54 mile route. The ride started at 8.30 am from Burgess Hill, although it is not a race, everyone is timed over their respective course.
The weather was kind as well, mild, a bit cloudy with a slight wind. We all started together but Jeff was after a personal best time and went off like a rocket, not to be seen again til we met up in the food hall at the finish!!!
I stuck with Andy until my chain came off after I went through the ford at Pillow Mounds Hill. I don't know how Graeme and Andy got on during the ride as I never saw either of them again.
The Classic route takes in Ashdown Forest and travels into parts of Kent and Surrey. There are five notable hilly sections on the route with Pillow Mounds Hill being the first, where you have to cross a ford before starting the climb. Once I got my chain back on I got stuck into the climb and completed that without any problems. The miles went by and then it was Kidds Hill, known locally as "the Wall". I have been up here several times but it is still a sit in the saddle and grind away type of hill and kicks again very steeply just before the summit.
By now I was well warmed up and looking forward to the Col du Groombridge [ Groombridge Hill ], this one has no run up and must be shown respect. These hills certainly cut down your average speed!!!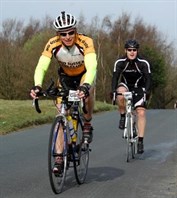 I arrived at Hever [ which was the timing stop ] in 2hrs 43 mins. had a quick pit stop, picked up a bit of food and was on my way again. As I was leaving the feed station I checked my bike computer but alas it was no longer attached to my bike!!! Obviously I had been travelling so fast that it must have flown off!!!
Having made my way back via Hartfield , Forest Row and onto West Hoathly the next thrill to look forward too was looming up, the infamous Cobb Lane!!! It is short but has a 20% gradient and can be a cleat breaker as it's known as "the walk of shame" as many riders are forced to walk it!!! To make matters worse the official photographer is always there to record the " shame or the agony"!!! Well it was not the "walk of shame" for me but it was agony!!!
Then it was on through Ardingly to what I thought was the final set of hills by the reservoir, short but steep. But there was yet another hill to climb up Deakes Lane into Ansty and then crack on to Burgess Hill to the finish.

I met up with Jeff in the food hall and found out that he had problems with his bike at one of the feed stations which delayed him somewhat and that had put paid to him achieving a "Gold Standard".

Challenge 54 miles
Andy Miles 3hrs 46 mins Silver
Peter Court 3 hrs 51 mins 40secs Silver
Graeme Fitzjohn 4hrs 7 mins 15 secs Bronze
Jon Webster 4hrs 27mins 5 secs Bronze

Classic 71 miles
Jeff Woodall 5hrs 15 mins 46 secs Silver
Del Hastings 5hrs 20mins 46 secs Silver
I've got to say that was one of the toughest rides I have done!!! I have also sent an email to the organisers to ask why the Gold Standard for over 60's was 4hrs 55mins and yet the Gold Standard for the Winter Classic [ which was 77 miles but only an undulating course] for over 60's was 5hrs 30 mins which I completed in 5hrs 15mins.
Del Boy