What is it?
5 x iron/day format.
Total of 19k swim, 900k bike & 211k run in 80hr40sec.
Where is it?
Monterrey, Nuevo León , Mexico, 18-22 Nov 13.
Monterrey was like I expected a Mexican city to be... colourful, but a bit crappy with lots of heavily armed police in big trucks. Even race site security had kevlar helmets and semi-automatics. There is quite a lot of drug related gang violence in Mexico.
Type in 'Monterrey deca' in Google and it comes up 'Monterrey decapitation'; last year 49 mutilated bodies were found in one of Monterrey's municipal parks. But most of the violence is gang-on-gang so I guess it's pretty safe... you just hope not to be caught up in any crossfire or that they don't take a dislike to your lycra bike shorts.
However, we found most of the locals to be charming. The race venue was Parque Espana where we swam in an open air 50m pool in wetsuits, and completed bike & run loops around the park.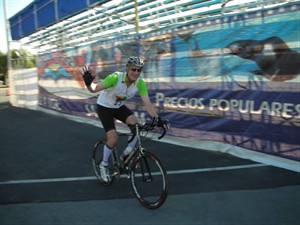 The bike course was very juddery; after day 1 I took to wearing 2 bike shorts to dampen the vibration.
The weather was variable, from 31'C in baking hot sun on day 1 down to 6'C on the last day. We also had thunderstorms and torrential rain. Strong winds on day 5 brought down a power line so that it was held up by a tree only feet above our heads on the bike course.
In Europe the race would have been suspended for H&S (half way through the final day) ... but I needn't have worried... this was Mexico; some park employees built some sort of gantry to raise the line higher above our heads while we continued to cycle underneath.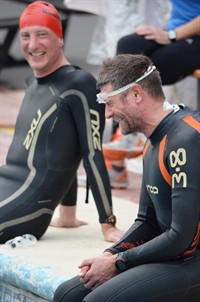 Some people don't like the idea of short looped courses that are often a feature of ultra distance triathlons but there are benefits. You're never that far away from your support crew or medical attention if necessary. During the event you get to know the other competitors (double, triple, quin & deca) as you occasionally run and bike together, offering each other support or telling jokes.
I was able to witness the fascinating duel between Kamil Suran and Antal Voneki as they battled it out for title of IUTA (International Ultra Triathlon Association... governing body of ultra dist tris) World Champion 2013.
They both came to the race with similar points so winning the continuous deca would be decisive. Half way through their 422k run they were still within 4k of each other!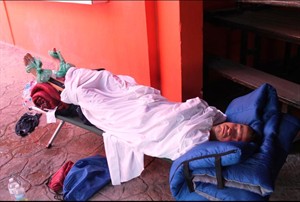 (Right: Kamil, taking a short nap during 422k run. Note ice bags)
By day 3 you've got yourself and support crew into a pattern. A daily routine of discomfort becomes your new 'reality' and acceptance of it is necessary. The discomfort (aka pain) and fatigue involved normally comes in waves, and it is vital to remain upbeat. Everybody was managing 'issues'.
Mine was a dodgy back; in March I had prolapsed a lumbar disc and torn another. That had severely disrupted my training and I had to miss 2 build up races over the summer. I owe a debt of gratitude to the pain specialist at the Nuffield. He scheduled a root nerve injection for me a couple of weeks before so that the optimum window of benefit would coincide with the race.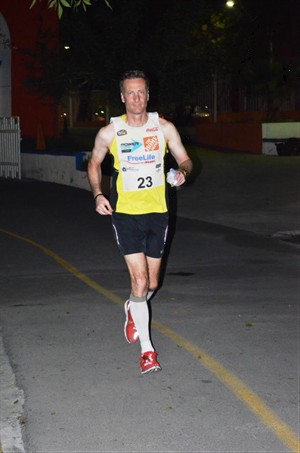 Lugging my bike box and the long flight didn't help... the days before the race it was causing me pain again just to walk around town. During each swim I had to limit the power I put into the stroke to keep my back happy, but the juddery bike course was the worst part. Normally I enjoy the bike the most, but each day I couldn't wait to get to the marathon.
Note to self day 3: 'tell my wife not to let me do anymore of these races!
Completing these races would not have been possible without a lot of support. The ladies in the 24hr race kitchen would make you anything.... as long as it was Mexican.
My eldest son Ben was my race crew. He has crewed a few of these races for me. Ben did a fantastic job of looking after his Dad, and I couldn't have done the race without him.
As well monitoring/managing my hydration, nutrition and electrolyte intake he was always thinking of innovative ways to take care of me like putting sandwich bags of ice in my bike jersey back pockets to keep me cool or duct taping a bag of ice into a neck scarf for the run. We also had a great time hanging out in Mexico before and after the race.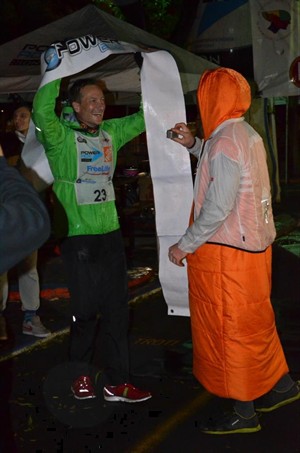 The last 5k of the run on day 5 produced my fastest run splits as I was just so excited about the
prospect of finishing... finally. I had forgotten my day 3 'note to self' and was already thinking about the next challenge...?

Ultra distance triathlon is not going to be everybody's cup of tea but recommended if you think you'd enjoy small intimate races with great camaraderie and the opportunity to explore your personal mental and physical endurance. You don't have to be fast; you just need to keep moving.
My back is a lot happier now that I've stopped provoking it.
See the 'World Cup Ultra Triathlon Mexico' Facebook page for more photos.
Follow this link to a video of Johns 5 days of Ironman
John Liebers