Background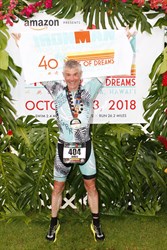 The inaugural Ironman Triathlon race was held in 1978 and in 1981, the race moved from the tranquil shores of Waikiki to the barren lava fields of Kona on the Big Island of Hawai'i. Along the Kona Coast, black lava rock dominates the panorama, and athletes battle the "ho'omumuku" crosswinds of 45 mph, 95-degree temperatures, 90% humidity and a scorching sun.
Just 15 people came to Waikiki to take on the first Ironman race in 1978. For this the 40th anniversary race in 2018 there were 2,400 competitors who represented the top 1-2% in their age groups, having gained qualification with fast finish times in one of 42 qualifying races throughout the world.
My Journey
It took a huge effort for me to gain qualification for this race because 10 years of Ironman racing has shown that even on a good day I do not tend to finish within the top 2%.
Beyond the usual high volume of training, I raised my game by traveling alone to Colorado in June 2018 to stay at altitude in the Rocky Mountains in an out of season ski-resort airbnb rental. This altitude adaptation was successful and allowed me to clinch 1st place (by just one minute) in the 55-59 age group at the 5,000 foot elevation of Ironman Boulder, Colorado just 10 days after arriving in USA. I got a welcome boost during that run at Boulder when resident professional, Tim Don, cheered me on from the crowd with "Go Mid Sussex!" having read the lettering on my tri-vest.
A burst appendix (with post-operative infection) 7 weeks before this Ironman World Championship in Kona abruptly halted all training for three weeks at a critical time and threatened to cause my withdrawal from the race completely. The target for race day at Kona became simply to finish within the 17 hours cut-off time. I hoped to do a fast cycle but not over-exert myself on the swim or the run.
Swim
Sea conditions were perfect and Great Britain's Lucy Charles broke the female swim course record by completing the 2.4 miles in just 48 minutes, on her way to finishing second overall.
I placed myself at the back of the mass start of swimmers to keep out of trouble and I completed in 1:39, which was almost the slowest in my age group. I was placed 124th in age group at the end of the swim.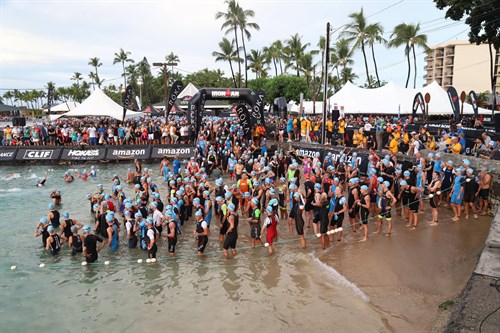 Cycle
The winds were gentler than usual, which may explain why both the male and female cycle course records were broken by professionals in 4:09 and 4:26 respectively. My cycle of 4:58 (average speed 22.6 mph) was one of the fastest in my age group so I advanced to 44th place in age group.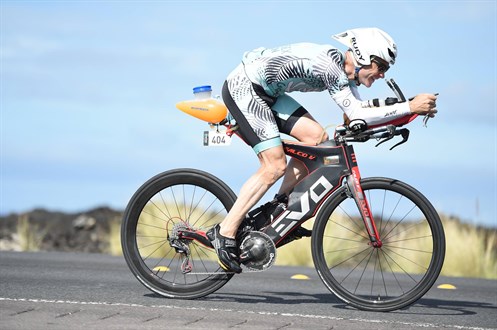 Run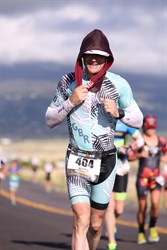 Despite temperatures being a little cooler than previous years, the heat and humidity was brutal. By half-way there were many athletes walking and some were in distress with nausea and exhaustion. Some of the professionals had slow runs, including Tim Don and Lionel Sanders.
I made full use of the copious amounts of water, salt, energy gels and ice provided at each of the 26 feed stations. Surprisingly, I felt fine throughout and maintained a steady pace for the the entire run, even in the dreaded natural energy lab section.
My marathon run time of 3:51 was comparatively fast so I advanced to 24th in age group. My wife Helen was volunteering at the finish line and I gratefully fell into her arms to complete a wonderful race experience.
Reflections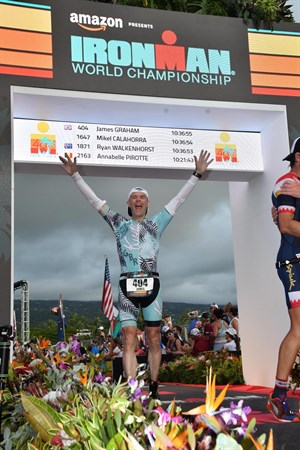 My finish time of 10:36 is one of my fastest for an Ironman race, despite it starting with a swim that was 27 minutes slower than my previous best. I think I have only ever gone faster at the famously fast Ironman Barcelona course. This result was an hour or two quicker than I had expected at the start of the day. Germany's Patrick Lange took 9 minutes off his own course record then (on one knee) proposed marriage to his girlfriend (in English) at the finish line. Switzerland's Daniela Ryf broke the previous course record and was 24 minutes faster than her 2017 winning time despite a jelly-fish sting at the beginning of the swim that slowed her progress and almost made her quit the race. That jelly-fish sting seemed to unleash astonishing powers to enable Daniela to overhaul Lucy Charles's substantial lead, whilst breaking the female cycle course record.
I am so lucky to have the support of family and friends to allow me to participate in such a terrific sporting event. The many NHS staff that got me through appendicitis gave me first rate care and literally saved my life. Ironman Kona is a very special event and it has been a privilege to participate alongside wonderful volunteers and world class athletes.
Oh, yes…… and the annual Kona race-week charity "Underpants Run" plus the "Parade of Nations" were a fun traditions not to be missed.