Helen Graham completes two Ironman Triathlons within 9 weeks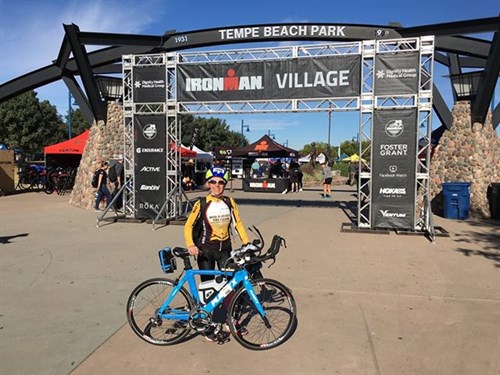 Background
Tempe in Arizona delivers a mostly-flat, fast, and spectator-friendly course that brings urban charms and desert vistas together. The deep lake water tends to be rather cold despite the potentially warm race conditions. Headwinds on the cycle can be more of a challenge than the significant inclines.
Pre race
Helen and Jim signed up for this fast warm weather triathlon a year ahead because this race sells out rapidly. Helen completed Ironman Italy 9 weeks earlier. Jim broke his hip during Ironman Italy so he switched from racing to supporting for Arizona.
Swim
64 Fahrenheit water and some currents lead to many athletes getting hypothermic and withdrawing of getting slow times. Helen was 16 minutes longer in the water at Arizona compared to Italy. The 0.4 mile jog from the swim exit to T1 made transition times longer than usual.
Bike
The sun did not emerge from clouds until around midday. The first 20 miles were uphill into a headwind so Helen was averaging around 11mph when she needed an average of nearly 15mph to make the cut-off times. Prospects looked bleak but Helen dug-deep and she avoided use of brakes downhill plus she pedalled like fury. Helen's speeds steadily rose through the 3-lap course and she did make the final cut-off time by just 2 minutes 50 seconds.
Run
Helen is a great runner with more than 50 marathons completed. She ran steadily and strongly to beat the final cut-of time by nearly an hour, overtaking vast numbers of other athletes as she went.
Post race
The subdued celebrations of Italy were compensated for by jubilation in Arizona.
Reflections and Acknowledgements
The 16:10 finish time at Arizona was 27 mins slower than the Italy finish time, but many more All World Athlete (AWA) points were awarded to Helen for this Arizona race. This reflects tougher race conditions on the day at Arizona. These two races give Helen an age group world ranking of 17th in GBR and 254th in the World. Some of those ranked higher will have gained points from 3 races rather than just 2.
The support of family and friends following progress on the Ironman App was much appreciated. The MSTC training sessions, advice and comradeship has been hugely important to Helen as she has progressed from complete novice to accomplished triathlete.