Over the weekend of 22nd and 23rd September, and despite the poor weather, members were competing in Swim Serpentine, the 170 mile Ragnar White Cliffs relay and the Weymouth Half Ironman (70.3).
Swim Serpentine
Six members took part in the 2 mile swim with Jeremy Paine being first club member to finish in 1.11.41, followed by Ricci Lennon (1.12.25), Jim Graham (1.15.51), Julie Williams (1.16.10), Sarah Hinton (1.17.14) and Helen Graham (1.35.57). Callum and Angela Murray took part in the 1 mile swim finishing in 43.16 and 55.50.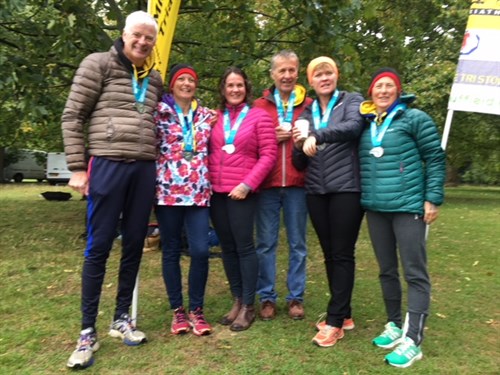 Ragnar White Cliffs 170 mile overnight relay run
Ten MSTC athletes took part in the Ragnar Relay, a 177 mile relay from Sittingbourne to Brighton following the coast. 7 men and 3 women, along with two mini buses, took part with each team member running 3 legs varying from about 4 to 8 miles per leg.
The team took just under 24 hours to complete the course although 4 legs had to be suspended due to severe weather conditions especially on the cliff top paths.
Torrential rain and wind made it very challenging, particularly as route finding was part of the challenge. It was a real test for everyone but was incredibly satisfying to overcome all the hurdles and win their category.
The team was comprised of Graham Bond, Steve Alden, Kevin James, Clair Hunt, Emma Alden, Mike Jaffe, Kate Eifler, Paul Richardson, Jo Fleming and Mark Jordan.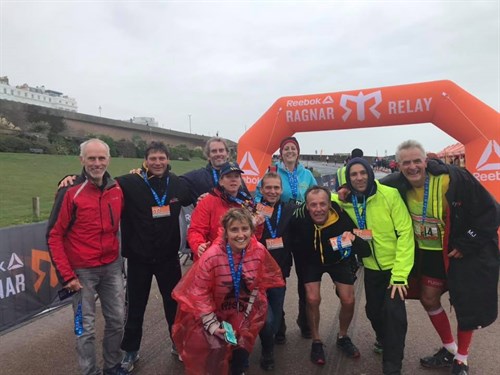 Weymouth Half Ironman
Colin Chambers and Charlie Langhorne braved the cold and wet conditions, with temperatures as low as 8C, to finish in 5.25.49 and 6.10.32.