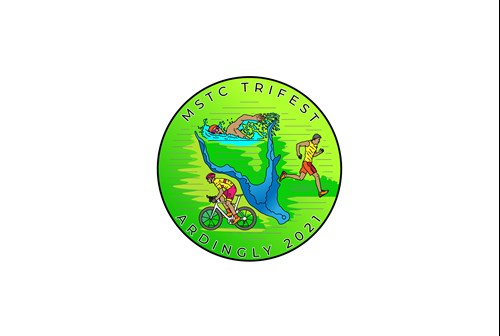 MID SUSSEX TRI CLUB Triathlon Ardingly Reservoir - Sunday 29th August 2021.
This is our club's triathlon for members only. The race is on the Bank Holiday weekend and provides an opportunity to take part in a local event and raise money for charity. The event offers both Sprint and Olympic distances. The swim is in Ardingly reservoir, the bike course is the Sprint route with the Olympic event completing two laps, the run follows a footpath alongside the reservoir. Due to Covid the maximum number of participants is 40.
Distances and start times
The Olympic distance will start from 7.30am and the Sprint at 8.30am, the race format is "time trial" (Covid compliant) with starters going off at 30 second intervals.
Sprint: 1000m Swim / 24.8km Bike / 5km Run
Olympic: 2000m Swim / 48km Bike / 10k Run 
Routes
Sprint Distance. An open water swim covering the usual swim circuit starting at the slipway covering two laps. The usual 24.8 Km cycle route that will be held entirely on open public roads, where there will be unrestricted vehicular, pedestrian and other traffic. It is a single lap course. A 5km run over the usual run course that is mainly on off-road public footpaths and bridleways adjacent to Ardingly Reservoir. It is one lap on an out and back course with a 'Turn here' sign marking the turning point.
Olympic Distance. The same as the above except over 4 swim laps, the same Sprint cycle route but over two laps (staying on College Road at the end of lap one), a 10km run over the same course as the Sprint but over two laps.
Route Maps
More detail for each route along with Risk Assessment is available for download here. The Covid Risk assessment can be found here. 
Covid
We will comply with British Triathlon Federation Covid policy. If you have Covid symptoms at any time 14 days prior to the event do not take part. You also need to complete a health questionnaire which will be sent to you before the event.
Entry
The race entry fee is £20. If you are not a BTF member you need a BTF day license which costs £4, the entry system will charge you the extra amount if you do not have a BTF number entered on your details page.
This is a closed event for MSTC members only, which is registered with the BTF. After event costs all surplus funds will be give to the club charities. No person will be allowed to participate in any of the session without having completed the entry form with health questionnaire and having paid the session fee. 
Event entry is available here - select 'Club Triathlon' as the event type and make a booking.
Venue Information
The event will start and finish at Ardingly reservoir: Ardingly, Sussex, RH17 6SQ. Telephone: 01444 892 549. Full details of the facilities can be obtained on the Ardingly Activity Centre website.
This event will not be fully marshalled. It is important that you ensure your safety throughout the session. Please remember that the club's general policy is one that is predicated on the notion that we are all responsible individuals who appreciate the risks associated with our sport and, therefore, participate at our risk. So it is vitally important for your own health and safety and for others, that you are fully able to complete the race, particularly so for the swim. All participants are responsible for their own hydration and nutrition throughout the session. Water will be available at the end of the 5km run loop but please try and bring your own water. Please remember that we are guests at the venue and that other people will be using it and its facilities. Finally we have strict instructions from AAC not to leave any litter behind so please take your litter away with you.
Good luck to everyone and we hope you enjoy taking part.