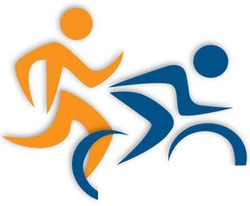 Club Hill Climb on Sunday 8th October.
We are excited to have another opportunity to get club members to test themselves in the fresh autumn air and enjoy socialising again after the end of the open water season. 
On Sunday 8th October we will gather at the causeway at the north east end of Ardingly reservoir (What Three Words ///flipping.rigs.metals) at 07:45 for a 08:00 start.
Entry is via the normal training booking page and should be available to book from 24 Sept (2 weeks ahead).
Event Fomat
There will be 3 legs. We will start with a hill climb on the bike, then after a gentle freewheel down and time to recover. Then we will run up the same hill, followed by another hill climb on the bike.
You can come and do all three or any combination of your choice, alternatively you can come and watch or help timekeep.
After we will go to a coffee van at the showground, where you can buy your own drink, the club will be supplying a selection of pastries. If you have any questions email john.mactear@gmail.com 
The event will not be marshalled but the road should be quiet at that time of Sunday morning.
Entry
Free entry.