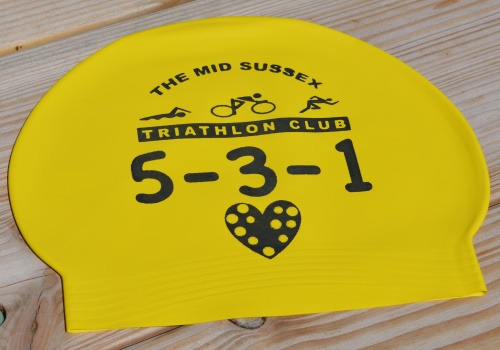 The Mid Sussex Tri Club is holding its annual '5-3-1' km swim at the Ardingly Reservoir on Saturday 11th July 2020 in aid of the Laurens Silver Swimmer Charity.
This is always a great event - it's a chance to swim a longer distance than is usually possible, but it's also a fun and sociable event with lots of cake.
Things are going to be a little different this year. We've moved the event forward to July so as to be away from the school summer holidays as many members couldn't make the date last year. The swim will take the place of our normal Saturday morning swim on that date.
Also we've shortened the format. In order to fit the event into a morning the 5k and 3k swims will be set off together and then the 1k will follow after these have both finished.
These changes will significantly reduce both the overall time and cost of the event - we still aim to raise add much money as possible for our chosen charity even as the event cost has increased.
Timings will be as follows:
5 km, starting at 08:30
3 km, starting at 08:30
1 km, starting at 10:30
The entry price is £10 for the 1k only and £20 for all other races/combinations which can be decided on the day at registration. Due to insurance issues this will be a member only event.
Volunteers
Without your help the event will simply not be able to take place so we'll be looking for some volunteers - please do get in touch if you / a friend / family member can help. With enough volunteers, we'd hope that most volunteers can also swim. We will need:
Canoeists (x3)
Land based spotters (x3)
Swimmer counters (x2)
Registration (x2)
Full briefings will be given to all who help out. Please email Debbie Ware if you can help.
Safety
A safety boat, together with a number of canoes will be on the water in and around the swim course, together with land-based spotters/counters. The normal safety rules for swimming at the reservoir apply. These are set out in club's Open water Swimming Policy for Ardingly Reservoir.
Please make sure that you have read this policy, together with the risk assessment for the session and the emergency action plan. Note that suitable wetsuits are compulsory. Swim caps will be issued at registration. The water temperature will be measured just prior to the session to ensure that it is within the temperature guidance set by the BTF and the ASA about open water swimming.
All members/participants are encouraged to be members of one of the home triathlon associations and/or to have their own insurance cover.
The Laurens Silver Swimmer Charity is a local charity that seeks to provide money for children with life long disability who require aquatic therapy. The charity commemorates the life of a wonderful little girl who loved swimming in her all too short life.
Entry
The entry price is £10 for the 1k only and £20 for all other races/combinations which can be decided on the day at registration.
Entries are currently disabled due to Covid 19.
Results
Results will be posted here after the event