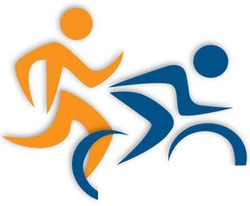 The MID SUSSEX TRI CLUB DUATHLON is based at Ardingly Reservoir on Sunday 5th May 2019. Race start is 9am, please allow time beforehand to setup in transition.
The transition area and meeting point is in the main PUBLIC CAR PARK, and as a result we are not setting up any specific racking. Bikes will be racked in front of our own cars. The car park will be in use for the public throughout the race.
Race Fomat
The format for the race is a run followed by a bike leg before being finished with a run. Course descriptions are set out below.
Short Course
Leg 1: Run 5km (2 laps)
Leg 2: Bike 25km
Leg 3: Run 2.5km (1 lap)
Long Course
Leg 1: Run 10km (4 laps)
Leg 2: Bike 40km
Leg 3: Run 5km (2 laps)
The run is out and back along footpaths adjacent to Ardingly Reservoir.
The run is a 1.25k long out and back course and will be repeated the required number of times to achieve the selected race distance for both the first and the second run legs (stated below). The turn-around point for the run is described below but is before the junction between the Ardingly Reservoir Path and Balcombe Lane (see below).
The whole race route is on public footpaths / roads and will be used by the general public.
Please be aware that there will be people walking dogs and possibly people on bikes.
The course this year has been compacted to a) minimise the requirement of marshals and b) to keep competitors close together to the extent possible in order to aid spirit between competitors as well also to minimise the impact on other foot path users.
Race marshals will keep a count of lap times on both the first and second run legs. However, competitors should note that it is their responsibility to keep a count of the laps that they have completed in order to keep a spirit of fair competition.
Routes
RUN
Run to the gate at the corner of the field.
Leave transition and run to the gate at the corner of the field.
Follow footpath alongside reservoir to following the path to the 1.25km turn point which will be marked by 2 yellow signs. The first says 'TURN AHEAD' and the second says 'TURN HERE'. Both will be on the Ardingly Reservoir Walk path before reaching Balcombe Lane. Turn at this point and retrace steps back through the gate into the Ardingly Activity Centre where there will be markers to denote the start finish area/run turnpoint and transition in and out points.
Marshals will aid you in keeping count for laps, however it is your responsibility as a competitor to know the route and keep count of the laps that you have undertaken.
CYCLE
The traditional lovely jaunt of the roads around ardingly
Risk assessments
Results