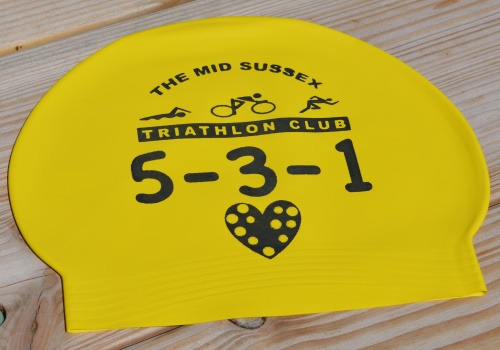 The Mid Sussex Tri Club is holding a special training swim at the Ardingly Reservoir on Saturday 1st August in aid of the Laurens Silver Swimmer Charity.
The charity is a local charity that seeks to provide money for children with life long disability who require aquatic therapy. The charity commemorates the life of a wonderful little girl who loved swimming in her all too short life.
This is a closed event with a maximum of 50 swimmers allowed in any of the three distances. Initially, the swim is open only to members of the Mid Sussex and East Grinstead Triathlon Clubs, although invited guests will be allowed to swim if there are spaces available. Members who wish to invite a guest (or guests) should contact Mark Jordan. Members should book their entry as early as possible to allow a decision to be made about the number of guests who can swim. Entries for guests will be made from Monday 9th June.
Distances
5 km (5 laps), Starting at 14:00
3 km (3 laps), Starting at 16:15
1 km (1 laps), Starting at 17:45
Volunteers
We really need some volunteers to help us run this event. Without your help the event will simply not be able to take place so please offer a few hours of your time if at all possible. We currently needs volunteers for for:
Canoeists (x5)
Land based spotters (x3)
Feed Marshal (x1)
Swimmer counters (x2)
Registration (x2)
We welcome people who are willing to help out for a specific period rather than for the whole afternoon, even those who are perhaps hoping to do one of the sessions, helping out with one or both of the others or friends or family coming along to help out as well as support. Full briefings will be given to all who help out. Please email Mark Jordan if you can be of any help
Safety
A safety boat, together with a number of canoes will be on the water in and around the swim course, together with land-based spotters/counters. The normal safety rules for swimming at the reservoir apply. These are set out in club's Open water Swimming Policy for Ardingly Reservoir. Please make sure that you have read this policy, together with the risk assessment for the session and the emergency action plan. Note that suitable wetsuits are compulsory. Swim caps will be issued at registration. The water temperature will be measured just prior to the session to ensure that it is within the temperature guidance set by the BTF and the ASA about open water swimming.
All members/participants are encouraged to be members of one of the home triathlon associations and/or to have their own insurance cover.
Entry details
Participants can take part in one, two or, for those who are so minded, all three of the distances.
It is suggested that each participant donates a flat rate of £20 for the session, irrespective of which distance is, or distances are, to be swum given that the purpose of the session is not merely to train and have a bit of fun, but also to raise money for Lauren's Silver Swimmers. All those who are participating are encouraged to raise any money that they can by sponsorship.
Entry is now closed for 2015.
It is important we know the numbers signed up for each distance so we have the appropriate safety measures in place.
Registration
Registration will adjacent to the activity centre at the following times:
5 km from 12:30-13:30
3 km from 12:30-13:30 and 15:15-15:45
1 km from 12:30-13:30, 15:15-15:45 and 16:45-17:15
Route / Facilities
The manager of the activity centre at the reservoir has very kindly agreed to set up a special course for the session and to ensure that there will be no other water users in this part of the reservoir during the session.
The 5-3-1 course is shown on this map. It is a 1 km loop set in the south eastern part of the reservoir. Quite obviously, those swimming 5 km will complete 5 loops of the course; those swimming 3 km will swim 3 loops of the course, and those swimming 1 km, a single loop. To assist with counting the laps, a marshal sitting on a canoe will give swimmers in the 5km and 3km a plastic band at the completion of each lap.
Parking is available at the reservoir. There is a café at the Activity Centre. Toilets and a limited amount of changing facilities are also available at the Activity Centre.
We have a tremendous facility here, in a superb setting, so please be respectful of the venue, the staff who work there, the surrounding area and residents.
Results
Thanks to all of those who took par in the 5-3-1 swim on Saturday 1st August. We had 45 swimmers this year and it looks as if we may have raised somewhere in therein of £750 for Lauren's Silver Swimmers once we have paid our bills. It was a tremendous day - awe inspiring in every respect, from the participation levels and the performances to the weather and, of course, the wonderful cakes that were brought along. It was humbling to watch you all whether swimming or supporting - thank you for your support of the event.
We had 5 swimmers complete each of the three distances. Sarah Moore completed them in amazing times. She was followed by Gunter Eiffler, Vicky Van Der Linden, Dave Ricketts and the utterly stupendous Tim Creswell.
The times recorded for each of the swims is shown below. Please take the times with a pinch of salt: we tried our best and may be out by a few seconds with some of them. I may have put a few typos in there too despite checking. Please also be aware that the course was, we estimate, 800 - 810 metres - depending on the wind - rather than the 750 meters advertised. That said, some swimmers tried their hardest to swim still further distances with an interesting series of takes on swimming in meandering lines.
Please put next year's swim in your diaries - it is scheduled for Saturday August 6th.