GoTri!
TRIATHLON SKILLS!
GOTRI! JUNIOR TRAINING CAMP
No current training planned ... watch the website for further details
Ages 8 -16 years - No Experience Needed!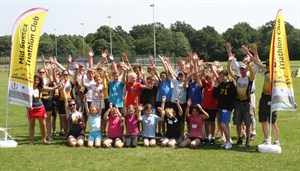 Learn about swimming, cycling, running, transition, nutrition, flexibility and bike mechanics with the Mid Sussex Triathlon Club. Train, race and have FUN! with our qualified coaches. Healthy lunch and snacks provided.

The training camp is an introduction to triathlon and is supported by Nuffield Health and endorsed by the British Triathlon Federation. The event will be held in accordance with the BTF's Child Protection Policy.

The weekend is aimed at young people with a basic level of fitness but it is not necessary to have taken part in any of the three triathlon disciplines competitively as the aim of GoTri! is to learn and have fun! It takes place over two days from 9:45am to 4pm on each day. The cycling will be on a closed course within the college grounds and will be traffic free.
On the Sunday we run our own kidstri that you will be able to take part in. Parents are encouraged to help us marshall the event and come and support our young athletes.
£50 per young person, £80 for two or £100 for three.
Great Walstead School, Lindfield, West Sussex RH16
Entry Details
GoTri! Event Pack
Please download the event pack below to see the full details of the next GoTri event: